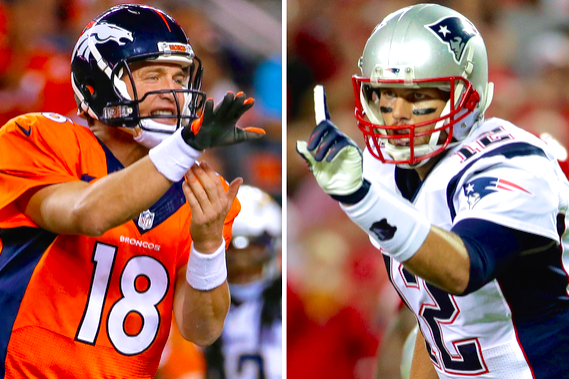 Riffs, rants, observations and dissenting opinions from the voices in my head: Here's a warped and dented take on the latest Tom Brady-Peyton Manning matchup and other, less-worthy events of the upcoming weekend.
Note: All times listed are Eastern, lines are via Odds Shark, and game capsules are listed in the order you should read them.
Broncos at Patriots
Sunday, 4:25 p.m.
Line: Broncos -2.5
The BradyManningmas decorations go up at the shopping mall earlier and earlier each year. Heck, Halloween just ended, and already the stores are full of BradyManningmas wreaths, ManningBradikkah menorahs and "Take Your Picture with Belichick" kiosks for tykes. (It's not really Belichick, sweetie. It's one of his little helpers. Why are you crying so hard?)
BradyManningmas used to be about the football. Now it has been commercialized and sensationalized. It sets expectations so high that fans can only be disappointed. It causes seasonal depression for folks around the country who have been forced to watch decades of Blaine Gabbert, Charlie Frye or JaMarcus Russell while Patriots, Colts and now Broncos fans (plus inveterate frontrunners) bask in reflected BradyManningmas afterglow.
In other words: BAH! HUMBUG! This is not backlash or weariness. Alert Fox News: I am declaring war on BradyManningmas!
The semiannual Brady-Manning bowls have become an ironic hell where we are force-fed everything we are gluttonous for (You want elite quarterbacks? Here's nothing but elite quarterbacks! Mwah-ha-ha-ha.) until our intestines burst, only to be sewn miraculously back together for the AFC Championship Game. Brady-Manning games have become like the time dad found you sneaking sips of his Johnny Walker Black and made you finish a whole bottle in one sitting. (That's still my only memory of fourth grade.)
Brady-Manning games are Day 5 of the family's week-long amusement park junket, and everyone's riding roller coasters and gorging …read more