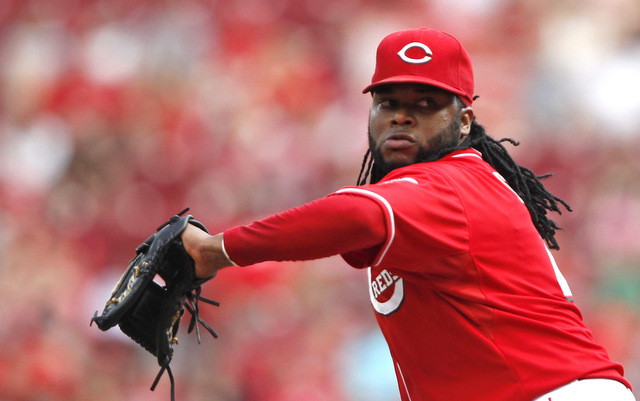 Unsurprisingly, the Reds have picked up Johnny Cueto's option for 2015. (USATSI)
The 2014 World Series is over and the 2014-15 offseason has officially begun. A total of 121 players became free agents on Thursday morning, and teams have exclusive negotiating rights for the next five days. Free agents will be able to negotiate and sign with a new team as of 12:01am ET next Tuesday.
Here is a recap of Thursday's news and notes from around the league.
RETIREMENTS
1B Kevin Youkilis: Youkilis has decided to retire, his representatives at Pro Star Management announced. He retires as a .281/.382/.478 (124 OPS+) career hitter with 150 home runs in parts of 10 seasons with the Red Sox, White Sox and Yankees.
OPTION DECISIONS
Angels: Exercised their club option for RHP Huston Street ($7 million) and declined their club option for LHP Sean Burnett ($4.5 million), the club announced.
Athletics: Declined their $5.5 million club option for IF Hiroyuki Nakajima, the team announced.
Cardinals: Exercised their $500,000 club option for RHP John Lackey. The option was part of a clause in his contract that was triggered when he had Tommy John surgery in 2012. (Associated Press)
Cubs: Declined their $5.5 million club option for RHP Kyuji Fujikawa. (Chicago Tribune)
Diamondbacks: Exercised their club options for RHP Daniel Hudson ($800,000) and LHP Matt Reynolds ($600,000), the team announced.
Dodgers: RHP Dan Haren has exercised his $10 million player option. (Los Angeles Times)
Mariners: RHP Hisashi Iwakuma's $7 million option vested based on performance, the team announced.
Marlins: Will exercise their $1.5 million club option for C Jeff Mathis. (MLB.com)
Nationals: Picked up their $9 million option for OF Denard Span, the team announced. They …read more